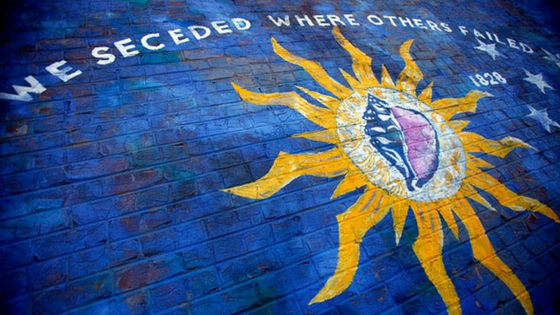 Photo Credit: The Conch Republic Facebook
Conch (kongk): any variety of large, spiral-shaped mollusks; the shell of which is used especially in cameos. When capitalized, Conch: a native or resident of the Florida Keys.
Drive past the Last Chance Saloon on US 1 in Florida City, and you've just entered a new country. Well, sort of. That country is the Northernmost Territories of The Conch Republic. Don't worry. You don't have to show your passport, but that wasn't always the case.
For some strange reason, back in 1982, the U.S. federal government border patrol had deemed it altogether fitting and proper to establish a border-type roadblock 100 miles within U.S. territory to check for illegal immigrants, drug smuggling, and heaven knows what else. Nearly every car was stopped and searched, resulting in a 17-mile-long traffic jam on the only road connecting the Keys to mainland Florida. Getting to and from the Keys became one giant hassle, and tourism to the area plummeted. Not to mention residents of the Keys were made to feel like outcasts or criminals, having to show passports to travel within their own state.
Key West Mayor Dennis Wardlow headed a three-man delegation to federal court in Miami, asking for an end to the blockade. After thoughtful deliberation to consider all the legalities, the court told Mayor Wardlow, "No." Faced with a government not willing to give equal rights to all, Wardlow announced to the growing number of television and newspaper media gathering outside the courtroom, "Tomorrow at noon the Florida Keys will secede from the Union."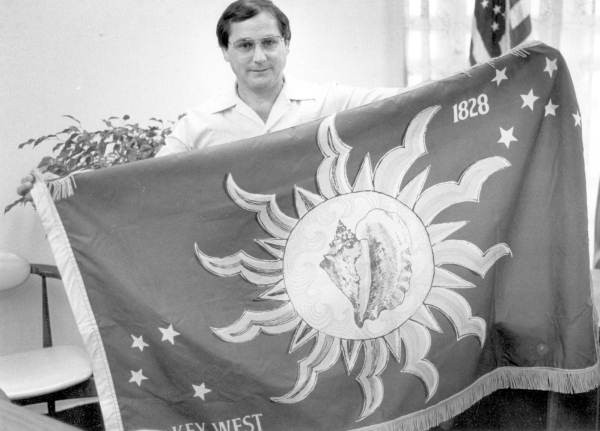 Rob O'Neal/Florida Keys News Bureau/AP photo
At noon the following day, in a one-page proclamation of secession read at Mallory Square, he spoke simply for all his fellow Conchs, stating, "That's our flag. It has a conch on it. We secede from the United States." And, with that, the new Prime Minister of the Conch Republic declared war on the United States, demonstrated by breaking stale Cuban bread over a man dressed in a Naval uniform. After one full minute of "war, "Prime Minister Wardlow surrendered to the U.S. Forces (to the same guy in the Naval uniform, actually) and demanded millions of dollars in postwar foreign aid. While the government immediately took down the roadblock, Conchs are still waiting for the aid.
And thus, the quirky Conch Republic was born, April 23, 1982. Wardlow was quoted in a statement to a member of the Foreign Ministry as saying, "It is our function as the Conch Republic to be the Joker in the deck. You may not always want to play with us, but we must be there, otherwise, you're not playing with a full deck." For over 36 years, this Conch micronation has governed with humor, warmth, and respect in a world in sore need of all three.
Every year since then, we Conchs have come together for an annual celebration of our independence. This year, the 10-day celebration will take place from Friday, April 20th to Monday, April 30th and shine a light on everything that makes Key West fun and unique.
Where were you on April 23, 1982? If any of you were lucky enough to be in Key West to witness the unfolding of this historic event that would travel around the world at warp speed in a pre-internet age, we would love to hear your story! Let us know in the comments below or on Facebook or Instagram! Don't forget to sign up for our newsletter to get more tips and tricks.
Happy Birthday to us!
KWA Team