November 13, 2017
7 view(s)
Designed by Freepik
On November 13th, 1971, Frank Romano and Joe Liszka opened the Key West Fragrance & Cosmetic Factory. The first day receipts totaled $36. The Key West Fragrance & Cosmetic Factory, now called Key West Aloe, was the first company in the nation to manufacture its own skin care products using pure aloe vera gel. Today, we offer more than 160 different Aloe Vera based skin care products to address any skin concern you may experience.
It's been a long 46 years and we couldn't be happier. We want to take this time to reflect on where we came from and show our appreciation to our biggest supporters -- You, Our Customers.
Photo: Key West Aloe
It All Started With A Sunburn
Every successful business owner had an "ah-ha" moment that motivated them to start a new company. For Frank and Joe, our founders, that "ah-ha" moment was a sunburn.
The native New Yorkers were vacationing in sunny Key West and made the timeless mistake of not using protection. Luckily, a local friend was growing Aloe Vera in their yard. The friend broke off a piece of this tropical plant and smeared the gel on Frank's burn. The pain stopped immediately. The next day, Frank was so impressed that the sunburn practically disappeared he decided to dig a little deeper into this wonderful plant.
Frank, a chemist and a cosmetic researcher, saw the magical properties of Aloe and started to wonder, "If Aloe was that effective on damaged skin, what could it do for healthy skin?" Two years of research, $21,000, and a move to Key West, the nation's first cosmetic company to make Aloe Vera based skin care products opened their doors in 1971.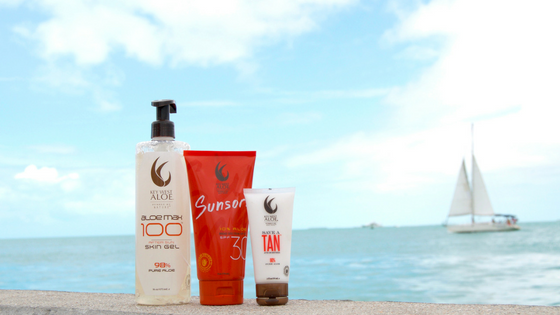 Photo: Key West Aloe
Look to The Future
46 years later, our mission remains the same. We want to create a wide range of luxurious skin care products with nature's best ingredient as our primary ingredient. To celebrate 45 years of business, we released our Anniversary Travel Bags in January 2017! These colorful travel bags will take you back to the 70's when Key West Aloe used to be named Key West Fragrance & Cosmetic Factory. Back then, you could watch Frank or Joe make the products in the window of our Front Street location and shipping was only $1.50.
A Picture Is Worth A 1,000 Words.
Thanks to the Monroe County Library, we are able to trace historic moments in our history through newspapers clippings. For instance, did you know that in April of 1980, the Key West Fragrance & Cosmetic Factory caught on fire or that in June of 1982 one of our male models became a CBS movie star!
Check out more historic moments from our history in our Key West Aloe Timeline.
Photo: Key West Aloe
Enter Our Giveaway
This anniversary is a big moment for the entire KWA Family (that includes you too). To say "Thank You" for being such a loyal member of our family, we are giving away one of our best selling gift baskets -- All About Key Lime. Enter our giveaway for a chance to win this free gift from us.
Sign up for our newsletter to learn more about Key West Aloe and our history. Also, follow Key West Aloe and join the conversation on Facebook and Instagram.
KWA Team