November 6, 2017
10 view(s)
There are certain parts of our skin-care regimen that come pretty easy. We know when to cleanse and moisturize to focus on the intensive stuff at night before bed and focus on SPF during the day. But where does exfoliation fit? Should you exfoliate in the morning to start your day or at night before bed? Many people want the specifics on the best time to use an exfoliant, so here's our take on this matter.
The best and worst time to exfoliate is really dependent on you (sorry, we know, not much help!) But, if you wear makeup every day, exfoliating at night would help remove makeup particles from your skin and open up your pores to more of a cleansing. Yet, if your face is duller or if you have oilier skin, exfoliating in the morning would be best to provide your skin with a fresh glow to start your day.
So, there's no better or worse time to exfoliate, it really just depends on your skin type and preference. You should concentrate on exfoliating once or twice a week on average. You can up the frequency, just make sure you pay attention to how your skin reacts to the exfoliation so you do not irritate your skin.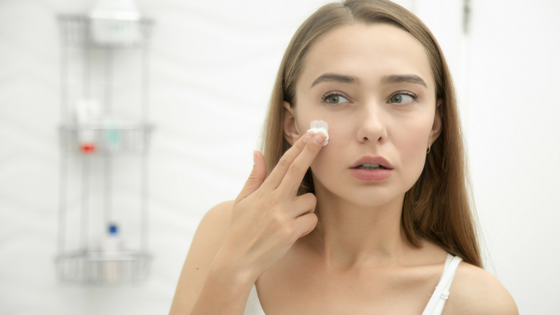 Designed by Freepik
With face scrubs, you get more control on the exfoliation because you can vary the pressure you apply when applying the product. The best way to utilize a facial scrub is to make circular movements all over your face when you scrub. Some days you might want to do harder pressure with less frequency of those little circular movements while other days you might want to focus on lighter pressure with more frequency.
If a physical exfoliation is too harsh for your skin, consider swapping it out for a chemical exfoliating product like our KWA Solution. Don't let the chemical part intimidate you, a chemical exfoliate will gently remove dead skin cells with harmless chemicals like alpha hydroxy acids and beta hydroxy acids (AHAs and BHAs). In fact, in most cases, chemical exfoliators are considered better for you skin especially if you are sensitive or acne-prone. If you do go the chemical route, you should only use that product at night and limit your exposure to UV rays by wearing an SPF during the day.
Whether you chose to exfoliate in the morning or night, with a physical or chemical exfoliant, it's important to remember to always moisturize your face and utilize SPF during the day!
Need more fall advice? Sign up for our newsletter to get more tips and tricks. Follow Key West Aloe and join the conversation on Facebook and Instagram.
KWA Team